The case studies below are examples of how the PICO sNPWT System delivers the effectiveness of NPWT when used on various wound types. See how the simplicity of the revolutionary PICO sNPWT System may promote positive outcomes and patient mobility.
PICO sNPWT is appropriate for:
Acute wounds
Chronic wounds
Closed surgical incisions
Traumatic wounds
Sub-acute and dehisced wounds
Flaps and grafts
Partial-thickness burns
Ulcers – diabetic, pressure 
Diverting colostomy
43-year-old male
Underwent emergency laparotomy 2 weeks previously for perforated diverticulitis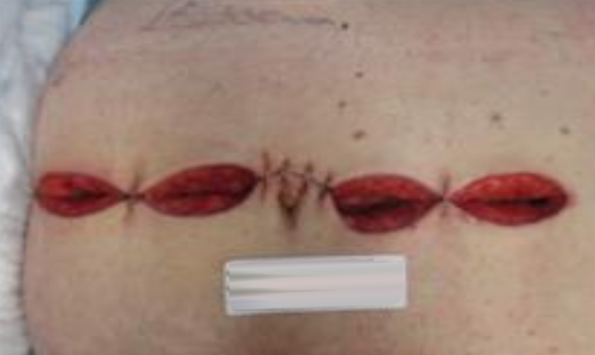 Wound measured 21cm x 2.6cm x 3cm with moderate drainage with no surrounding cellulitis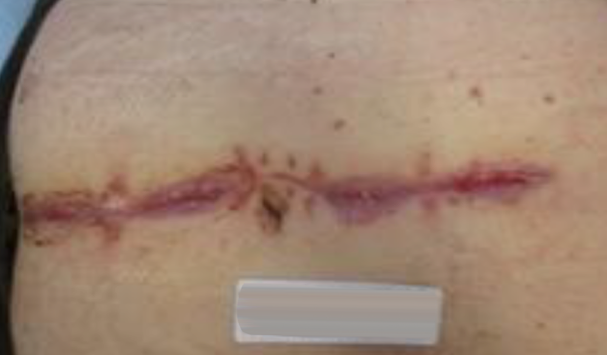 After 2 weeks of PICO sNPWT application
Knee trauma
73-year-old Caucasian female
with traumatic wound to right knee after falling. Patient had slough and hypergranulation, which required weekly debridements and some silver nitrate.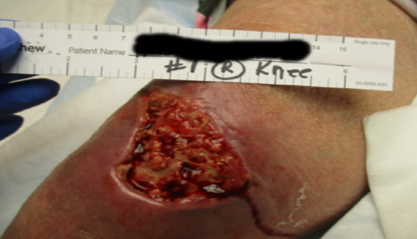 PICO sNPWT started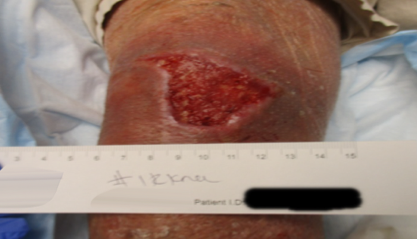 1 week after PICO sNPWT application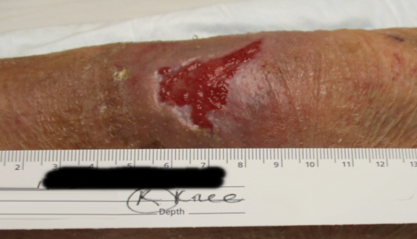 5 weeks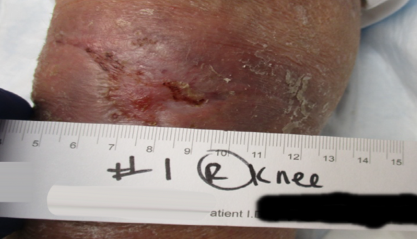 Achieved closure in about 7 weeks with PICO sNPWT
Dehiscences
14 days following surgery and after 10 days of RENASYS™ NPWT, treatment with PICO sNPWT was introduced (along with gauze filler). Patient experienced less pain at dressing change with PICO sNPWT.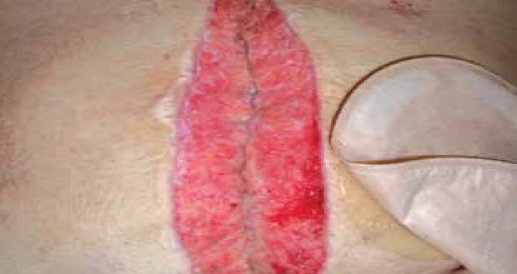 Wound measured: 23cm x 4cm x 2cm deep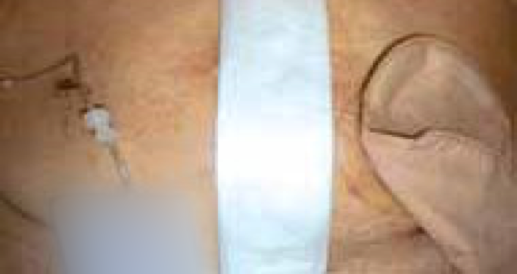 PICO sNPWT in situ at start of treatment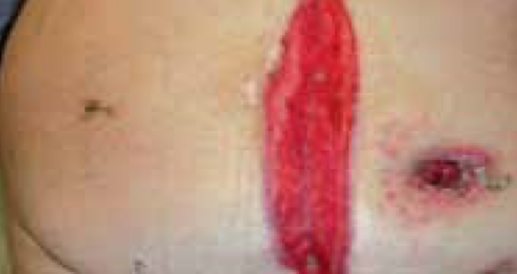 Day 9 of treatment with PICO sNPWT
(55% wound area decrease from baseline)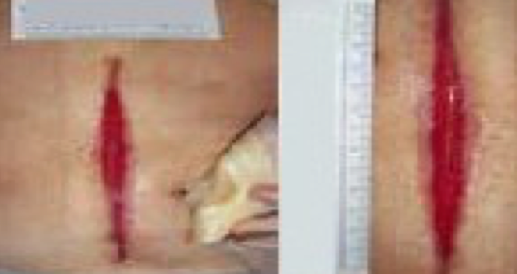 Day 22 PICO sNPWT discontinued
Diabetic foot ulcer
48-year-old male
with recent amputation of 5th metatarsal and surgical debridement of large Wagner Grade 4 ulcer on right foot. Patient had been using traditional canister-based NPWT for 2 weeks.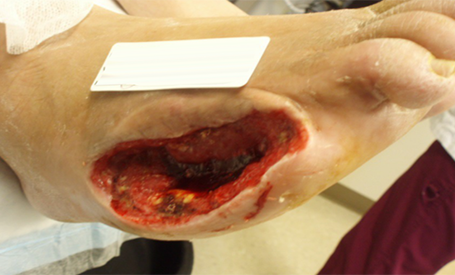 PICO sNPWT initiated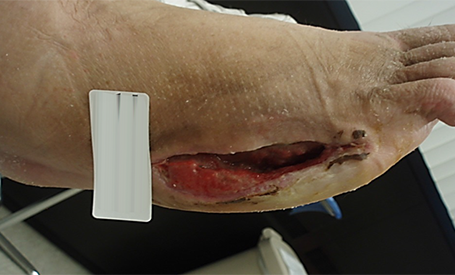 Day 7: 30% reduction in wound volume; reduction in drainage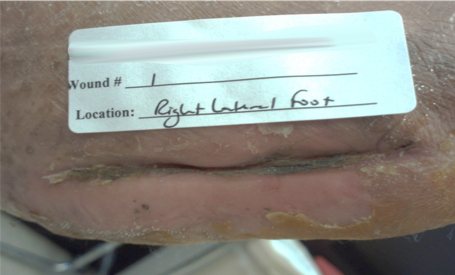 Closure achieved in part due to approximately 30 days of PICO sNPWT use
Diabetic foot ulcer
82-year-old male
with a past history of diabetes, an myocardial infarction and venous insufficiently having undergone a partial foot amputation 6 weeks earlier following a necrosis and an infection.
After surgery, the wound was treated with MepitelTM dressings prescribed by the orthopedic team for the lower part of the wound and MELOLINTM then protected by TegadermTM. The wound then began to macerate, was foul smelling and painful such that the patient feared another amputation.
The wound was then treated with PICO for 9 weeks. After assessment that the wound was sufficiently closed, it was switched to a traditional treatment.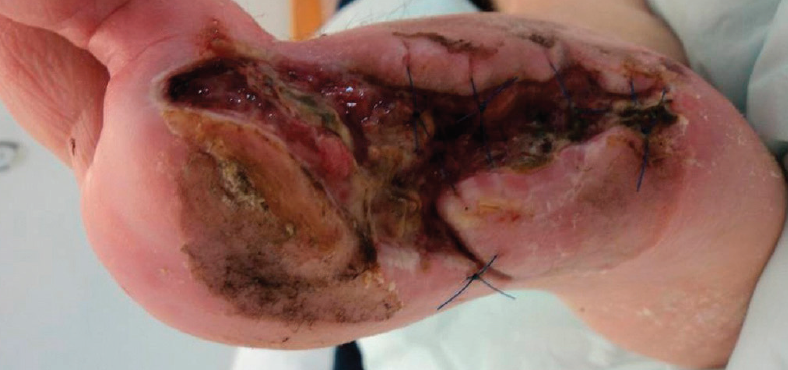 Amputation wound prior to treatment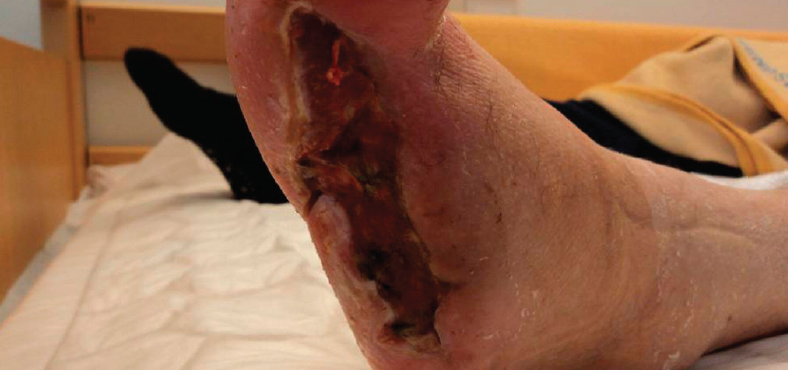 Wound after 2 weeks of treatment with PICO sNPWT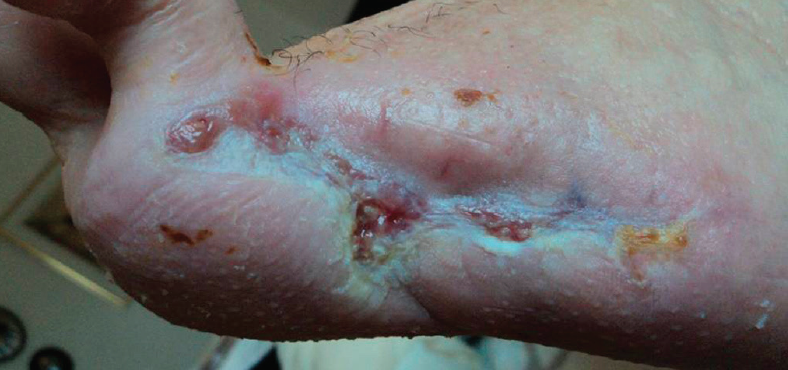 Wound almost healed and PICO stopped after 9 weeks of treatment
Skin graft
58-year-old male
with an acute and necroses wound of the dorsum of the foot for which he was hospitalized as an emergency in the dermatology unit, self harm was suspected.
At day +6: the wound was granulating and at skin level. PICO was applied to maintain the graft and to limit the risks from washing over this area on the site.
An interface was positioned between the grafts and the PICO dressing to prevent a possible adherence on removal.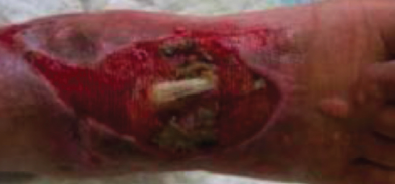 Initially prior to debridement of the wound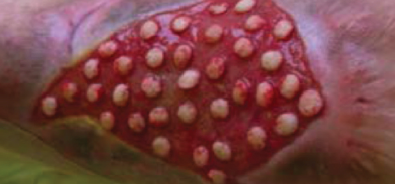 Day 0. Application of the pellet graft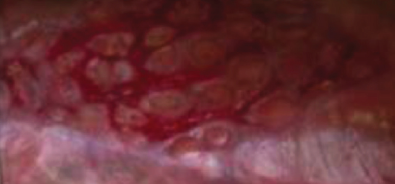 Results at 15 days
Pannus wound
60-year-old male
with large draining open area under large pannus for 1 month. Initial treatment with Dakins 0.25% due to odor then changed to zinc and absorbent dressings with no improvement — drainage overwhelmed everything.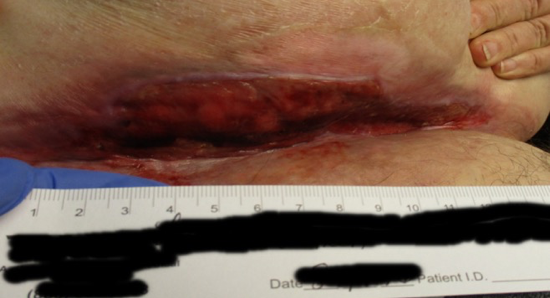 Initial treatment: Dakins 0.25%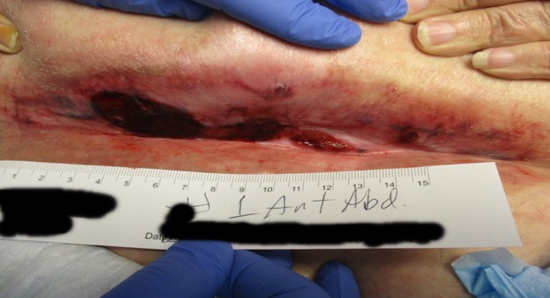 Patient became frustrated with traditional NPWT process; PICO sNPWT was eventually prescribed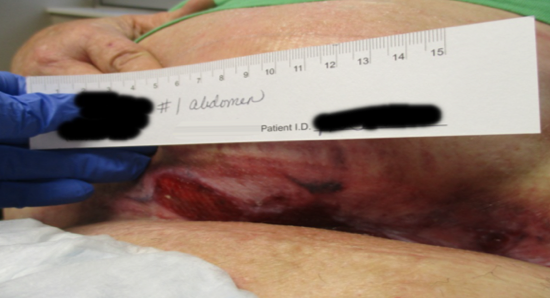 5 days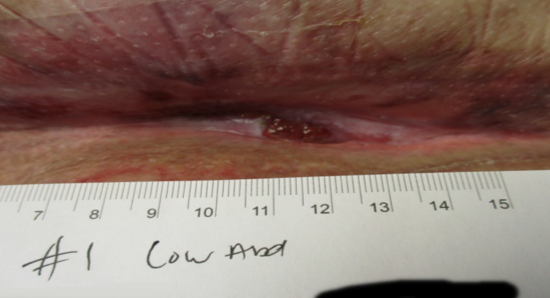 4 weeks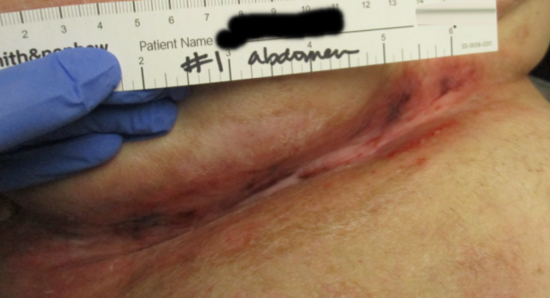 Achieved closure in about 5 weeks with PICO sNPWT
Abdominal abscess
61-year-old female
with h/o intra-abdominal abscess post hysterectomy. Underwent exploratory laparotomy with drainage of multiple intraabdominal abscesses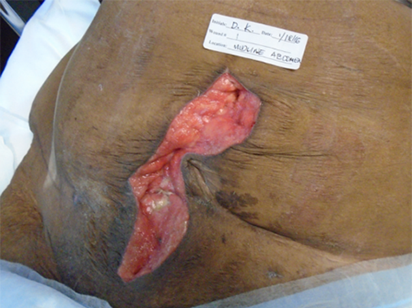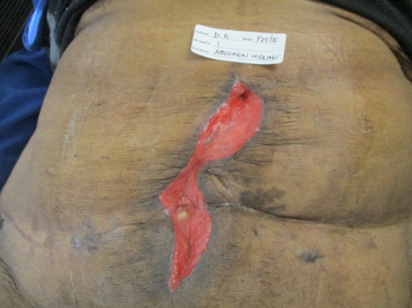 Week 1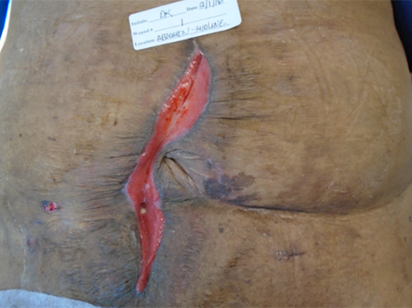 Week 2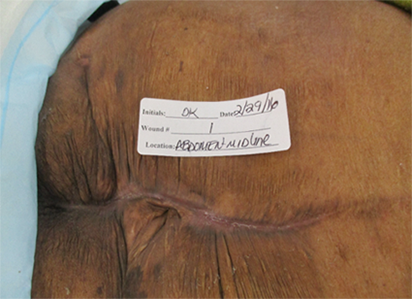 Week 4
Chronic vascular
77-year-old male
was being treated for a wound that had failed to heal using conventional wound management therapy for over 1 year. The patient had previously suffered a stroke
The patient was initially treated with RENASYS™ NPWT for 2 months in the hospital to encourage granulation, but in order to allow the patient to be discharged treatment was switched over to PICO sNPWT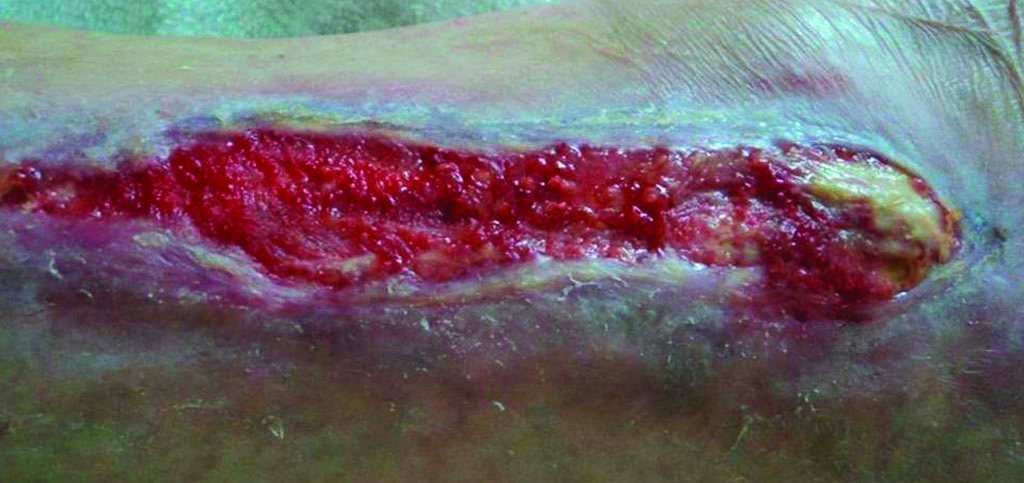 Beginning of treatment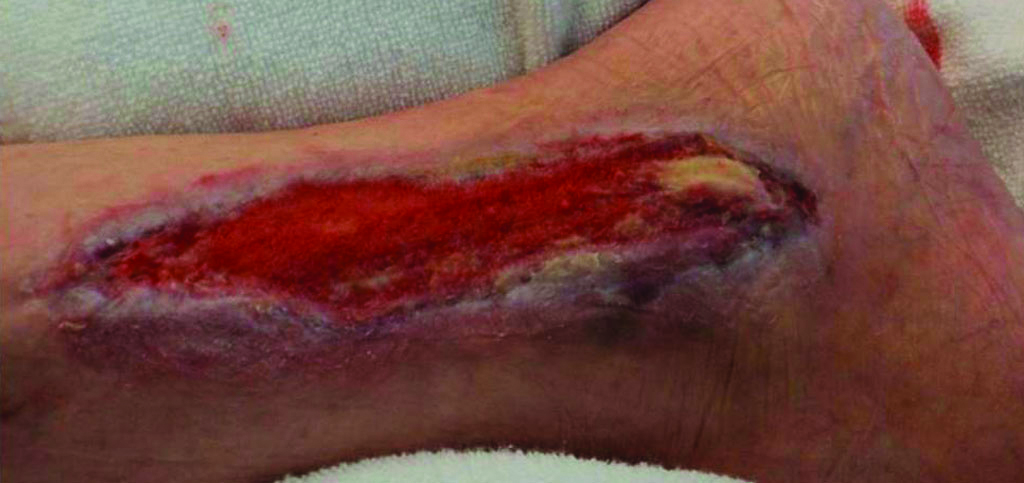 Progression after two weeks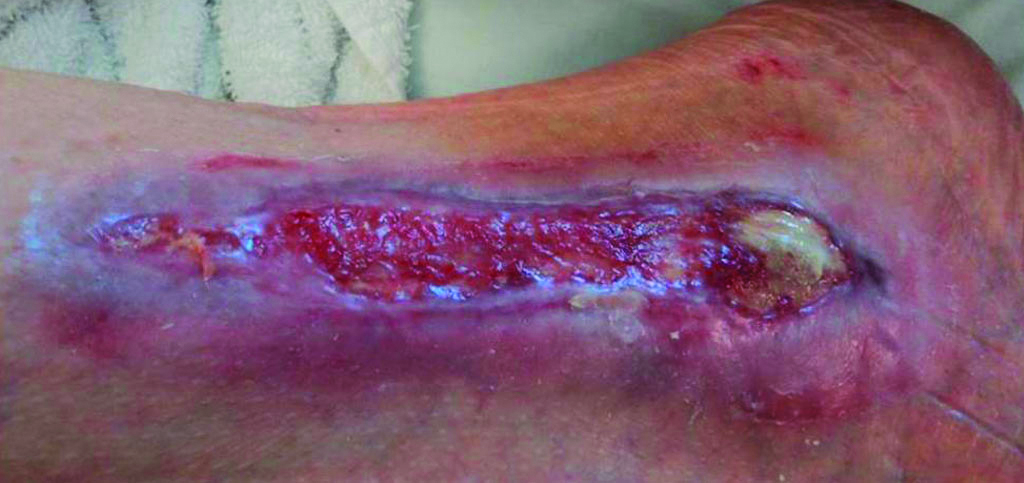 Progression after 4 weeks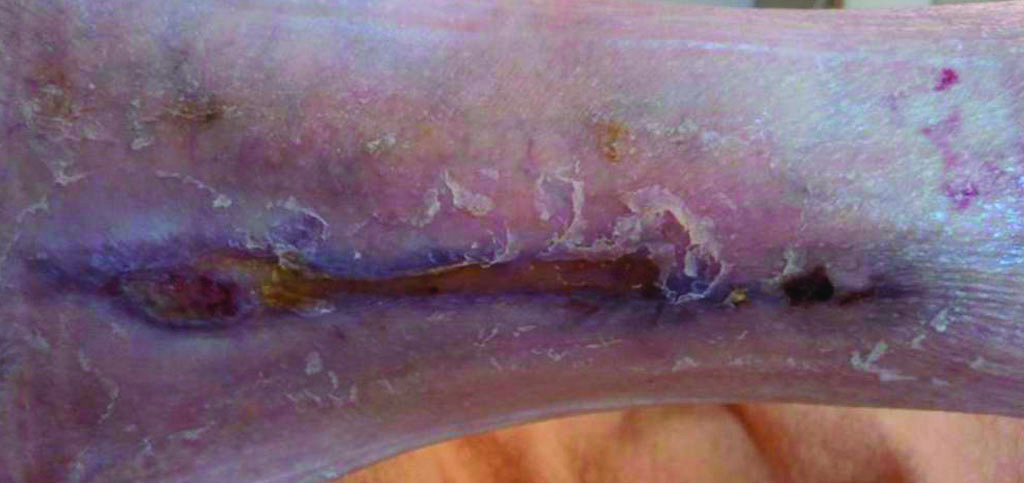 Progression after 6 weeks
Traumatic wounds
68-year-old female
Cirrhosis with former chronic alcohol abuse, arteriopathy of the lower limbs and type I diabetes. Undertaking of a transmetatarsal amputation revealing an osteoarthritis at the level of the proximal interphalangeal joint which was beyond any therapeutic management.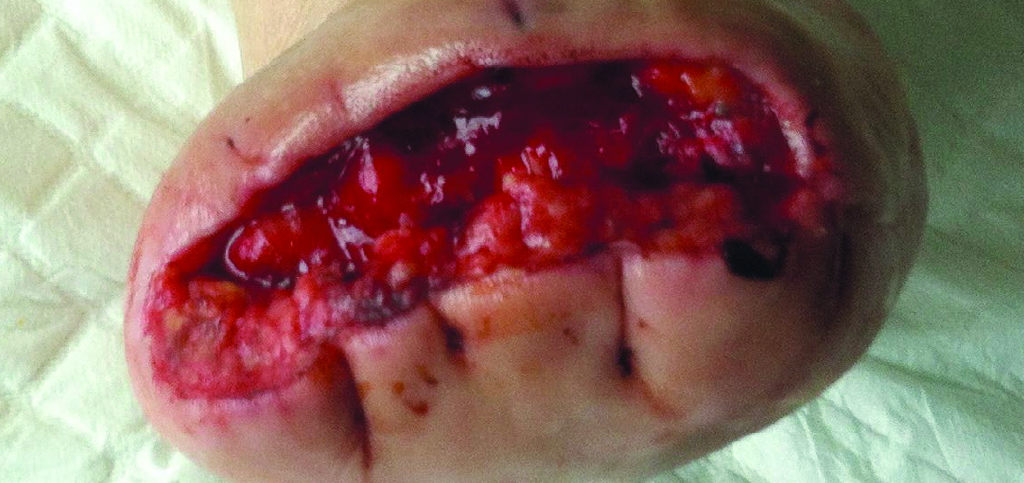 Beginning of treatment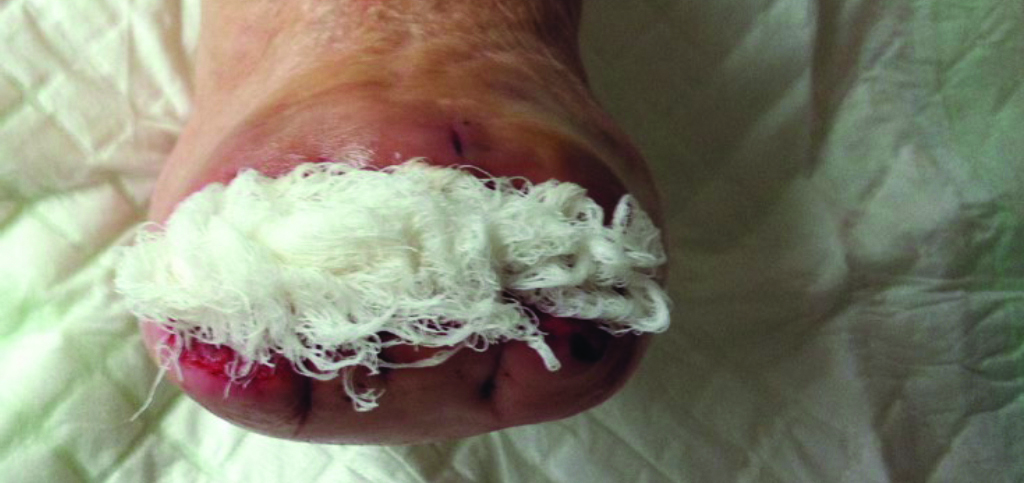 Gauze in situ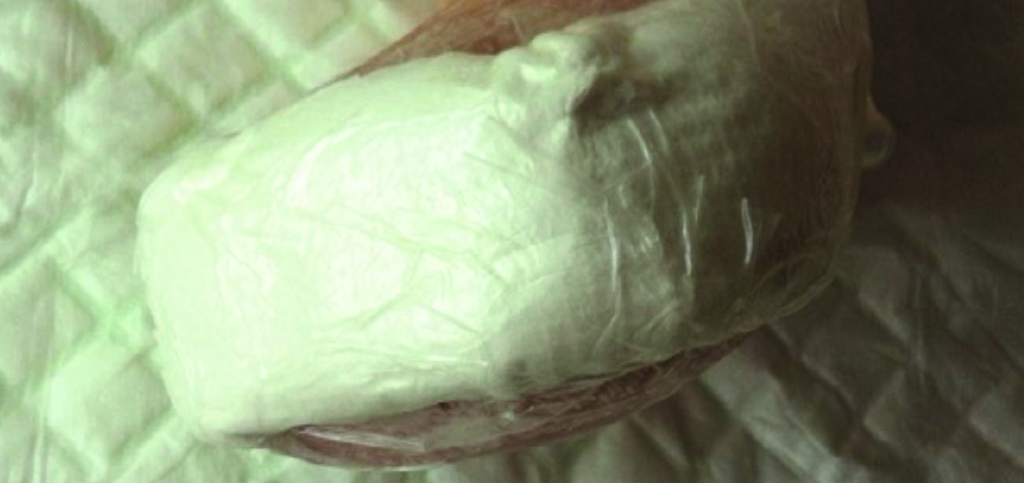 Application of PICO sNPWT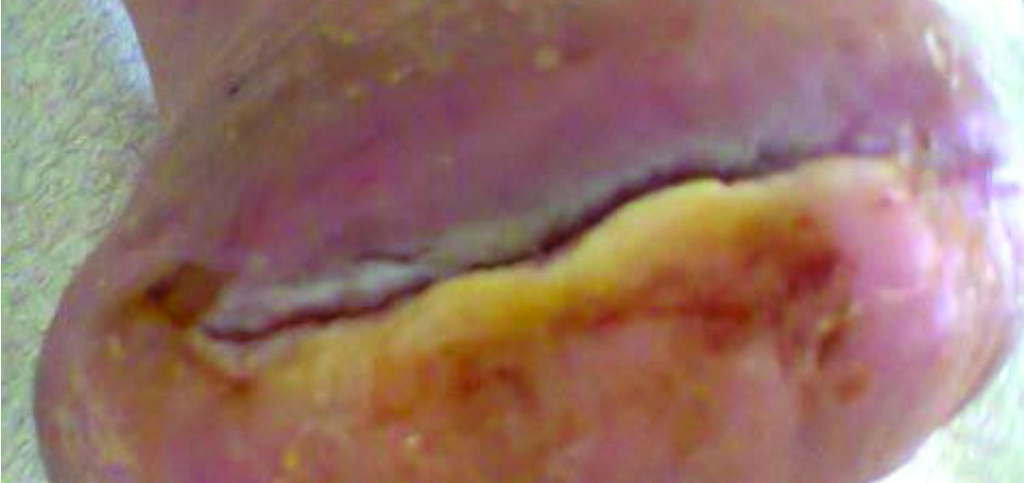 Progression at 52 days