Readmissions are costly.1,2 
Wound complications are the leading cause.1-3  
eCAP is the solution.
Readmissions after total joint surgery have a serious cost — for your patients, your employer and your paycheck.1,2  Their leading cause is wound complications.1–3  Thankfully, we have a solution.
Introducing our Episode of Care Assurance Program. If, during the 90 days immediately following an in-patient procedure where a Smith & Nephew total hip or knee system, PICO Single Use Negative Pressure Wound Therapy (NPWT), and ACTICOAT* Flex 7 Silver-Coated Antimicrobial Barrier Dressings were used, your patient is readmitted to the same facility as a result of a surgical site infection or to revise the Smith and Nephew implant, we'll refund the purchase price paid for the total hip or knee system, PICO sNPWT and ACTICOAT products.
Our surgical site protection products dress for success.
PICO 7 Single Use NPWT System
The PICO sNPWT System reduces lateral tension and provides compression to the periwound, which may help reduce edema and improve perfusion.1,6,7 ACTICOAT Flex 7 provides a barrier against microbial contamination to help prevent infection.8,9 This combination may help lower the risk of costly readmissions by reducing the incidence of surgical site infections.1,7,8
"Adding PICO sNPWT and ACTICOAT products from Smith & Nephew to our TJA cases has been a great win for our health system clients and their patients. I am extremely pleased to see our readmission rate drop to nearly zero. In [partnering with] Smith & Nephew, we've worked with a comprehensive product solutions partner that's willing to stand behind its product portfolio."

—Paul Gallagher, Vice President, Provider PPI
All of our primary hip and knee implants are eligible for eCAP.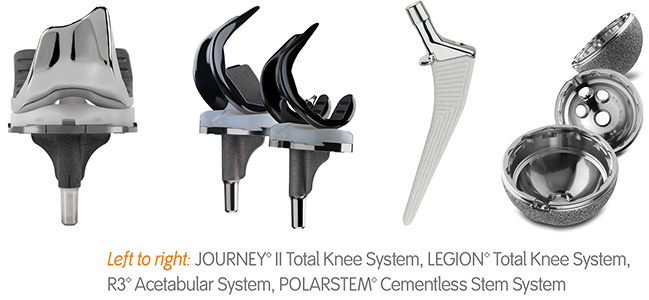 Smith & Nephew innovations are designed to help patients regain their quality of life while enhancing economic value for our customers.
An eCAP success story: nearly zero readmissions4
Provider PPI, a subsidiary of Highmark Health, experienced significant results with eCAP.
Don't let readmissions cost you.
Smith & Nephew may be able to help you lower your risk of readmissions — and raise your confidence.
Even if you initiate the eCAP program with just a portion of your hip and knee procedures, by combining our surgical implants with PICO sNPWT and ACTICOAT Flex 7 Silver-Coated Antimicrobial Barrier Dressings, it may help reduce readmissions for your patients by helping to prevent surgical site infections.6–9
Ask your representative how to sign up for our eCap program today.
Program Details
The eCAP warranty is limited to in-patient procedures only.
The Smith & Nephew total hip or knee system, PICO sNPWT System and ACTICOAT Dressing must have been used in a manner consistent with the products' labeling and Instructions for Use.
The readmission must result from a failure of the total hip or knee system, the PICO system, or the ACTICOAT Dressing to perform as expected.
You must complete and provide to Smith & Nephew a readmission report for each claim made under the eCAP warranty.
You may make only one valid warranty claim per patient.
To participate in eCAP, the facility or health system must have a signed contract in place. This is a separate form, required in addition to any pricing agreement.
World Union of Wound Healing Societies (WUWHS) Consensus Document. Closed Surgical Incision Management: Understanding the Role of NPWT. London, UK: Wounds International; 2016.
Zmistowski B, Restrepo C, Hess J, Adibi D, Cangoz S, Parvizi J. Unplanned readmission after total joint arthroplasty: rates, reasons, and risk factors. J Bone Joint Surg Am. 2013;95(20):1869-1876.
Merkow RP, Ju MH, Chung JW, et al. Underlying reasons associated with hospital readmission following surgery in the United States. JAMA. 2015;313(5):483-495.
Smith & Nephew's Episode of Care Assurance Program (eCAP) reduces hospital readmission by 97% following total joint replacement surgery [press release]. http://www.smith-nephew.com/news-and-media/media-releases/news/smith-nephews-episode-of-care-assurance-
program-ecap-reduces-hospital-readmission-by-97-following-total-joint-replacement-surgery/. Published January 18, 2018. Accessed May 4, 2018.
Clair AJ, Evangelista PJ, Lajam CM, Slover JD, Bosco JA, Iorio R. Cost analysis of total joint arthroplasty readmissions in a bundled payment care improvement initiative. J Arthroplasty. 2016;31(9):1862-1865.
Karlakki S, Brem M, Giannini S, Khanduja V, Stannard J, Martin R. Negative pressure wound therapy for management of the surgical incisions in orthopaedic surgery: A review of evidence and mechanisms for an emerging indication. Bone Joint Res. 2013;2(12):276-284.
Malmsjö M, Huddleston E, Martin R. Biological effects of a disposable, canisterless negative pressure wound therapy system. Eplasty. 2014;14(1):114-127.
Roberts C, Ivins N, Widgerow A. ACTICOAT[tm] and ALLEVYN[tm] Ag made easy. Wounds International. 2011;2(suppl 2):S7-S12.
Burrell RE, Heggers JP, Davis GJ, Wright JB. Efficacy of silver-coated dressings as bacterial barriers in a rodent burn sepsis model. Wounds. 1999;11(4):64-71.